Saturday was another hot one, but not quite as bad as the day before.  It once again began with early Jasper snuggles in bed, but Don decided to take them for an early morning walk and romp before it got TOO hot out.
Then they dined on their usual TLC kibble, and we had the usual for breakfast (by this point, we were honestly looking for a little more variety...).  There were some adorable twin 3-year-old girls at the next table, and their mom kept apologizing profusely for them, but... dang, for 3-year-olds, they were doing very well, we thought!  We had seen them at The Boathouse the night before and been similarly impressed that they were able to behave so well in a restaurant at such a young age.
Then it was time for a quick romp at the park for the dogs – unfortunately, nobody else was around, but Macie and Jasper chased each other around a little bit, before we had to leave for our last trip to Sunshrine.  As usual, we made our last visit a double!
Amanda and Sabrina greeted us once again, and gave us our "instructions" for the first part – a Seaweed Body Wrap.  First, they loofah-d the bejeezus out of us, while we thanked our good senses for using sunscreen all week.  Then they coated us in the seaweed masque – a thick and sticky mud-goop – and rolled us each up in our foil wrappers, just like baked potatoes.  While we were marinading, we enjoyed the most incredible foot rubs (moans were stifled, but barely...)
After our hour was up, we shuffled and squoonched off to the shower to de-mud, while they remade the tables for our aromatherapy massages.  We came out and assumed the required face-down positions.  So it wasn't until Don's massage therapist started working on his back that he realized that Amanda had been swapped out for another RMT (like Sabrina), whose name we later learned was Stef.
People in the Lakefield area – GO VISIT SABRINA AND STEF AT SUNSHRINE SPA!!!!!  They are both freaking amazing, and your entire bodies will thank you profusely.  You will moan.  After an hour of pure bliss, you will leave feeling like jelly.  Incredibly relaxed jelly.  With no muscles and no soreness, just wiggly mush.
As we were leaving, Sabrina warned us to drink lots of water.  And that later that night, every glass of hooch would feel like three glasses.  Which made us question the logic of booking another 7-course Chef's Tasting Meal with wine pairings at Mount Julian that night... but only a little bit.
We headed back to Viamede to fill up our water bottles.
And found a bit of a mess in our cabin.  SOMEBODY had gotten in to the wood pile beside the stove, and pretty much destroyed one log and one branch, the remnants of which were strewn all over the floor.  Jasper had been eyeing it earlier, but Macie has a history with wood piles, so... we aren't sure if it was Mungojerry or Rumpleteezer... Or could you have sworn that it mightn't be both?
Thank goodness, along with the totally useless ironing board, the cottage came equipped with a broom and dustbin.
We grabbed our water bottles and took the vile criminals to the park, where they got to see their friends Luna and Loki again, plus a couple of other dogs whose names we didn't catch.  Much romping ensued, although it was still pretty hot, so they wore themselves out earlier than usual.  Which was okay by us – we were ready for a nap, ourselves.  And water... lots and lots of water.
Knowing we were about to have 7 (but the equivalent of 7x3) glasses of hooch with dinner, we wisely abstained from the pre-dinner beer and sucked back a little more water, before giving the kids one more walk (and barricading the wood pile).
We headed off to Mount Julian for dinner!  Sasha was our waiter again – she was there solo, and there were only a couple of other tables – and she greeted us warmly and let us choose our own table.  She warned us the tasting menu was still within the same cycle as earlier, but she'd done some different wine pairings, and would maybe shake a few things up for us.  Plus we remembered to take a few more pictures this time!  When Don mentioned we'd forgotten to write down the wines from our first visit, she said she'd put a list together for us and give it to us at the end.  She also remembered I was a fish-eating vegetarian.  We got the impression both nights that she is VERY good at her job (including the wine pairings – I'm sure that the hardest part of her job, hee hee!)
She poured us each a glass of a Fume Blanc from Grange of Prince Edward, and brought out the "amuse bouche" – miniature duck egg omelettes on farm radishes, fried smelt on a roasted pepper sauce, and a creamy beef (or tofu) sauce on top of a sesame seed crostini.  They were all as good as we remembered, although there was a sweetish sort of powder on the omelettes which we didn't recall from before (but was quite good).  Plus it had the same leaf that had been under the soup the last time – when we asked her what it was, she said she didn't know, she thought it was just garnish.  Oops... oh well, it tasted good and nobody died.  :)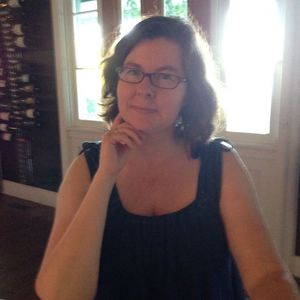 Then she brought out the Heirloom Tomato Gazpacho, which was the same as last time.  And... oops, we thought the wine had been paired for the amuse bouche, but... it was supposed to be for the Gazpacho!  Never mind, she poured us a new glass with a wink.  The soup was just as lovely as the first time, even without eating the leaf.  :)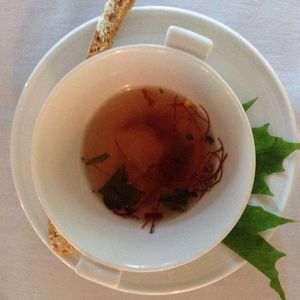 Next up, she poured a Gewurtztraminer from Tawse (Niagara), and brought out the "Peas and Carrots" salad, just as beautiful as the first time!  (But sorry, we forgot to take a photo again...)
Third course was the delicious Great Lakes Pickerel, paired with a Cardonnay from Classon Chase winery (Prince Edward County).  It was presented slightly differently from last time, with some beautiful edible flowers they'd found earlier that day.  (As Sasha says, "those guys are always foraging, foraging...")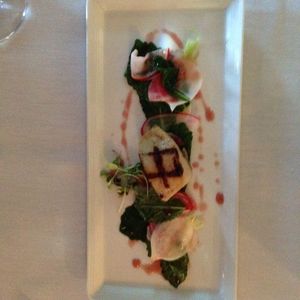 Some other guests had left, so Sasha cleaned up the corner table and asked us if we'd like to move over and have a better view?  We said sure!  She then proceeded to move our wine over – Don thought she was stealing it before he'd finished, but fortunately nobody got stabbed and he still got to drink his wine.  ;)  It was, indeed, a beautiful view.  (These pictures don't nearly do it justice, but the colours of the sunset were gorgeous!)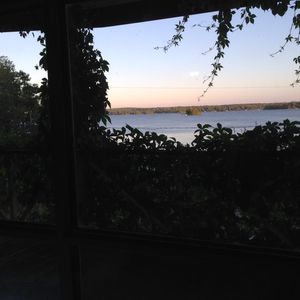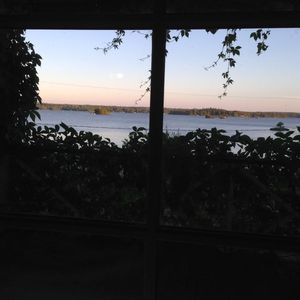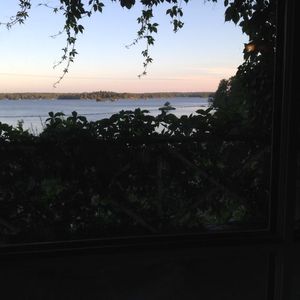 Fourth course was the Viamede Duck, which again was served with a Pinot Noir, but this one was also from Classon Chase.  Below is a picture of Don's, which has the slivered duck breast and fois gras – Alyssa's was much the same, but with smoked tofu slivers instead of duck.  It was very good again, although parts of the white were still rather raw this time, and we're totally wusses about raw egg whites, so we did our best and hit the rest under our forks.  And Sasha said she was at the end of the bottle of Pinot so had given us larger portions, which didn't hurt...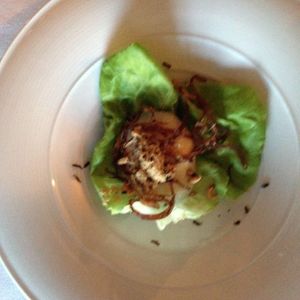 Then that delicious Quinoa bread!  We had heard her apologize to another table earlier that they were running out of bread and having to ration it out that night, but we seemed to have double servings – so either they had a cancellation, or she just liked us and spoiled us even rottener.
The deer loin / tofu medallion was paired this time with a Spanish wine (our favourite) from 2006 (our favourite Spanish year), by Antonino Izquierdo.  Absolutely delicious, both food and wine!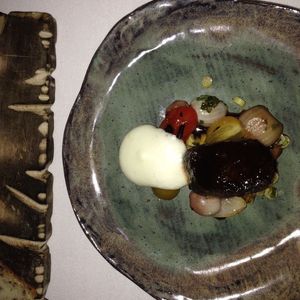 The cheese course came out – same items, but slightly different presentation, and a few new "forage-ables".  It was paired with a delicious Riesling Icewine from Chateau Des Charmes.
And finally, dessert!  She brought out a different dessert option for us this time, a delicious medley of berries and rhubarb with fresh herbs atop a marrow cream (Don's) / duck egg cream (Alyssa's), with maple and chocolate somethingorother.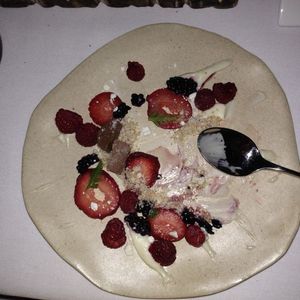 This final course was again paired with a beer – Churchkey's "Holy Smoke!" Vanilla & Heather Scotch Ale.  Holy Smoke, indeed...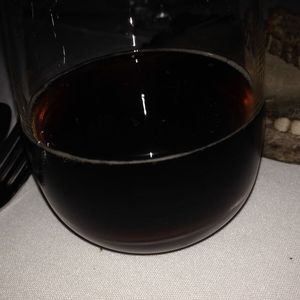 I guess we must have made it home.  ;)
We gave the dogs their dinner and another quick walk, and then crashed into bed one last time.
Don was up before Jasper – it seems everyone had the itch to go home (it's always nice to go home after some time away, isn't it?).  A bit of a walk for the dogs, and then the earliest breakfast we'd managed all week (same old same old, yadda yadda yadda).  We grabbed a couple of "to go" coffees and went back to pack up.  
While Don was loading everything into the car, Alyssa took the pooches to the park for a romp, to expend some energy before the long drive home.  At first there was nobody else there, but then a new dog, a boxer named Max (or Maximilian, if his dad thought he was misbehaving) showed up, and they had great fun.  Shortly after that, Luna and Loki came, and the Sheepadoodle Reese.  It was crazy time for all of them – the perfect end to the dogs' vacation.
We'd like to return, but without the dogs, so we can actually have a chance to enjoy some of the other activities and amenities!  As I think we mentioned, there is a "Viamede Academy" each weekend starting in the fall, which all look like fun – so maybe we'll round up some friends and see what trouble we can get into.  We're not sure we'd do a week-long vacation like this with the dogs again, though.  We'd have enjoyed more sleep and relaxation, but I think the dogs would have more enjoyed going to a boarding place where they could play with their pals all day, and not be as restricted with indoor space and leash requirements.  Macie was getting rather anxious and acting out a bit by the end of the week.  (Jasper would be happy wherever there was food, but she's a bit more upsettable.)  And we came home not feeling any more rested than when we'd left.  So... next year, we'll probably board them and each enjoy our respective vacations a bit more.  We certainly loved the food (other than the monotony of breakfast) and customer service at Viamede, though!
Hope you F&B fans have enjoyed the 2016 version.  'Til next time!
Alyssa & Don