Late Tuesday morning, we headed out to Haliburton to meet our friend Gordo for lunch.  We met Gordo at the inn last year, and hit it off, big-time (he calls himself our BFF – Big Fuzzy Fruitcake).  He's still working at Sir Sam's, but has been off due to a knee injury, and it just hasn't been the same without him (the other staff are great, of course, we just miss him!).  We met him at Baked and Battered, a half bakery/bistro, half fish & chips spot – great spot, and seems very popular.  We were still too full from breakfast to go for a full meal, so opted for coffee and cookies instead (well, the boys had cookies, Alyssa had a whiskey walnut brownie because... VACATION).  We spent a few hours catching up on each others lives, and yakking away about pretty much everything, before he had to get off to another appointment and we returned to Sir Sam's.
Back at the inn, it was another gruelling afternoon of napping and reading.  (And Alyssa had a shower, because she cares.)  The rain and thunderstorms that had been predicted seemed to avoid us all day, though we could feel the temperature (mercifully) start to drop.
We headed down with our books and grabbed a couple of Muskoka Cream Ales to have on the porch.  There was a bit of rumbling of thunder in the distance, and the skies looked grey, but still no rain in our part of the world.  The skies got dark and swirly, the far-away rumbles increased, and the wind and waves started to go crazy.  So a lot of other folks joined us on the covered porch, but we never did get that storm we were hoping to watch.  It did cool down considerably, though, so we continued our reading in the living room instead – and by the time we were ready for our second beer, the Haliburton Honey Brown was back in service!
Then it was time for dinner.  Shelby was our waiter again, and as soon as she saw us, she gave me the lowdown on which dishes could be adapted to vegetarian for Alyssa, and what the vegetarian option was for main course.  THIS is service, folks!  (She also remembered our pepper addiction, and whose turn it was to pick the wine – after only one previous night with us, she's got our routine down pat.)  It was Alyssa's turn for the wine, and she opted for the tried-and-true Coppola "Ivory Label" Cabernet Sauvignon – listed in the "Fruity Reds", but with a nice rich & smooth taste.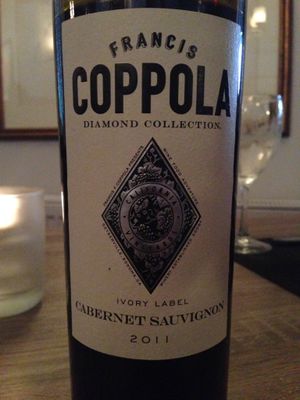 We actually remembered to take pictures of every course last night, although didn't always have the discipline to wait until after we'd dug in, so... we'll never make it as food photographers!
Alyssa's appetizer was the Sir Sam's Caesar Salad (sans bacon), with tomato bruschetta.  Delicious and garlicky and Don didn't have to worry about her kissing any strangers afterwards! 
Don went for the Salumi Plate with Cured Prosciutto, with smoked duck breast (yup, more duck!), irish port cheddar and feta.  It was very rich and flavourful, although the richness might have been his undoing... (certainly wasn't the dessert, no sir!) 
For mains, they made Alyssa a lovely Risotto with zucchini and tomatoes and watercress and yummy goodness, plus a delicious marinated & grilled portabello topped with grilled red peppers.  It was wonderful, but a doggie bag was necessary, for lunch later today. 
Don opted for the Grilled Alberta Striploin Steak with Béarnaise sauce, served with broccoli, mashed potatoes and purple heirloom carrots.  It was beautiful, perfectly cooked, the potatoes were awesome, sauce was great.  The plate was emptied! 
But dessert must be had (we're sure they'd beat us if we didn't take dessert, yeah, that's it, they'd beat us!), despite fullness.  And we may have made it about halfway through dessert before remembering to take photos...  We were also about halfway through when we realized we thought we might explode, so saved the other half for a snack later this afternoon.
Alyssa broke the Créme Brûlée streak (although it was tempting!), and went for the Chambord Infused Cheesecake with Blueberry/Raspberry Coulis.  It looked so small, but tasted so big! 
There weren't any fresh berries available, so Don opted for the Rich Chocolate Brownie, with Vanilla Bean Ice Cream.  He ate all the ice cream but had to put some of the brownie in the doggie bag too. 
Stuffed and ready to explode, we realized we still had 1/3 of a bottle of wine left – I know, I don't even recognize us any more – so we brought it up to the room to finish up, after moaning and rolling around on the floor a while, to make room for the wine.  The leftovers were nicely ensconced in the fridge.
This morning, we woke up UNDER the covers – after a couple of really hot nights, it was nice to have a cool morning!  It reminded Alyssa of those music camp mornings when you'd slept with your clothes in the sleeping bag, so you didn't have to get out of bed to get dressed.  Sadly, we hadn't made such preparations...
We came down for breakfast (after getting dressed, don't worry!) with our server Amy.  Don went for his usual (scrambled eggs, peameal, brown toast, tomatoes instead of potatoes, HP), but Alyssa got adventurous and had the French Toast with blueberry-raspberry syrup.  It was delicious – not as sweet as you might expect, so she could feel somewhat virtuous at all the fruit she was having.
After breakfast, we headed out to the patio to sit in the sun (to warm up) with our to-go coffees.  And then we got an extra set of hugs from our BFF Gordo, as he'd had to come in and pick up some paperwork.  We sat and chatted a bit until he had to take off again, and now we're reading books in the sun until it's time for our 1:30 couples massage with Cindy and Cheryl.
Have a Wonderful Wednesday, everyone!
Alyssa & Don