Alas, sigh, 'tis the final Sir Sam's F&B report — although Alyssa is typing it from the car, as Don drives us to go pick up our new puppy, so there is a consolation prize this year!
Saturday, most of the hordes were off to visit their kids at camp, so it was almost like it wasn't a weekend, it was nice and reasonably quiet.  It was a bit grey in the morning, but the sun fought through and it was quite a pleasant day.
We had one more couples massage in the early afternoon with Cindee (egads, we've been spelling her name incorrectly all these years!!!) and Cheryl.  They both commented on how much more energy Don had than when we first arrived — looks like all this sleeping and pampering has done some good!  Cheryl made a final attempt at the granite ridge that is Alyssa's left shoulder, including using her elbows and probably full body weight at times.  There's still a few rocks back there, but things are moving again — guess we have to remember to book in with our RMT before all this magic is lost!  Feeling like jelly, we gave our thank yous and good-byes and promises-to-email, and swooned our way up to our room to drink lots of water and read a bit.
Then it was down to the bar for a Honey Brown and a re-attempt at a pool championship.  We discovered that we play better after one beer is consumed.  Then there is a small window of opportunity before we get too far into the second beer, and then it's time to give up in self-disgust.
When we reached that point, we brought the rest of our second beer to the patio for some more talking and reading.  Unfortunately, there were also a few conversations at this time, both participated in and couldn't-help-but-be-overheard, which have made us think we'll be looking elsewhere for next year's Anniversastravaganza, but we shall save that post for a little later, because we want to end this on a high note.  We did have an absolutely wonderful week, but it may be time to move on and try something new.  So this is a slightly bittersweet last F&B posting (but you know you're gonna get a great Lyssy-rant once she can peel herself away from Little Miss Puppitude!).
 

We had to leave the patio before Alyssa succumbed to her chronic foot-in-mouth disease, so we grabbed an extra half beer each (hey, it was our last day!), and headed upstairs to get as much packed as possible for our early departure today.  We did manage to bump into Cindee again, who introduced us to her daughter Nicole, who was helping out in the dining room last night (brutally short-staffed, with a full house, but Nicole grew up working here, and was in the area, so was able to jump in).  Somehow our paths had never crossed with her before, but she's a bit of a world traveller, so must have been away every time we were here in the past.  She also happens to be the girlfriend of Chris, the favourite former-manager who we'd hoped to have lunch with on Thursday (but he was working).  We asked her to tell him he was missed, and she said he was going to be stopping by later, so we'd see him at dinner.  She and Deb also fought over who got to serve us (just play-fighting, but we felt loved) — although it turns out they both lost, because when we did get to the dining room, Alisha had returned early and was a last-minute addition to the dining room staff (and she claimed us).
For the wine, we picked a Marietta Zinfandel from Sonoma — perfectly lovely, although we weren't as gung-ho on it as we were with some of our other choices.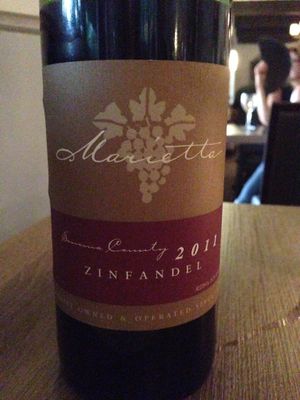 We both picked the same appetizer, in all its garlicky goodness: the Caesar Salad with Olive Oil Poached Tomato Bruschetta, although Don opted for his to be topped with the Smoked Duck Breast.
 

For main course, Don selected the Blackened Breast of Chicken (apparently he was on a breast kick this evening…) with an Orange and Honey Cream.  It was, as you probably could predict, perfectly cooked and awesome. ?  The sauce was also delicious, as were the roasted vegetables, and if Alyssa wouldn't have kicked him for licking his plate clean, he probably would have tried.
 
After the previous night's Salmonbutter, Alyssa went for the Pan Seared and Cold Smoked Atlantic Salmon with Pickled Watermelon and Cucumber Salsa and a Yogurt Mint Sauce.  It was HUGE — two generous pieces of pan-seared salmon, plus a rather large strip of smoked salmon.  Not quite the Salmonbutter of the night before, but tender and delicious nonetheless. 
 


About two forkfuls into the second slab of salmon, though, Alyssa realized she would have to ask for the Box of Shame, and enjoy a doggie-bag lunch today (because much as we're gonna love this dog, Lyssy ain't sharing her salmon…).  Alisha dutifully obliged, and even marked the box appropriately.  ?

And, lucky us, they'd had a fresh delivery of strawberries, so we enjoyed some strawberries and whipped cream (and cinnamon for Alyssa) for our final dessert.  As if they knew we were having our final dinner, someone across the lake started up a gorgeous fireworks display, which we enjoyed as we finished our last drops of wine.
 
It was getting VERY hot and muggy in the dining room, and we hadn't seen a sign of Chris (and Nicole was still working furiously for some late-seated tables), so we grabbed a couple of scotches and went to sit under our ceiling fan, before getting an early sleep.
That sleep was interrupted about 2:30am by an almighty thunderstorm.  We were hoping the thunder and rain would break the heat, but it didn't do much, so we didn't sleep terribly well the rest of the night.  Plus, once the sun started to rise, all Alyssa could think of was Puppy and Puppy, and maybe a scathing letter, and… Puppy.  So by the time 7:00am came around, she may have bounced up and down just a touch, just in case Don was bored of sleeping.  ?
We got dressed and got our bags packed into the car, and then opened the doors for breakfast at 8:30.  Yes, 8:30.  A.M.  Breakfast.  Lisa, you may pick your jaw up off the floor now…
Aly was our waiter, with Amy also coming by to assist (it was busy — who are all these crazy people who have early breakfast on a weekend of all days?!?!?)  Don had his usual, which Amy teased him about, and Alyssa went for the Eggs Benedict with smoked salmon instead of ham.  An absolutely delicious way to end our stay.
We packed up our cooler (we'd brought a bunch of salads and cheese and stuff to snack on, but brought most of it back home again!), and Don brought it out to the car while Alyssa checked out.  The woman at the desk told us Chris was at the Inn and wanted to see us, so she went out back to try and find him.  Meanwhile, Don had seen him from the parking lot, and they were coming in the other door.  We had a bunch of hugs and caught up a bit with him, but then we really had to frappé la rue.  So we grabbed our final To-Go Coffees, and jumped into the (ahhhh, AIR CONDITIONNED!) car.
We have waved hello, good-bye, and see-you-soon to Barrie, and are heading west to the kennel.  Sad to be at the end of our vacation, but feeling pampered, blissed-out, MORE than well-fed (and we shouldn't donate a liver any time soon), and excited to see how life unfolds with our new four-legged family member.
Thank you to all the wonderful staff at Sir Sam's Inn — you guys spoil us rotten, every time!  Big hugs to you all.

But now... PUPPY!!!
 


Happy Sunday, everyone!
Alyssa & Don