Slowly catching up...
We'd used the heat wave as an excuse to run the air conditioner overnight – hoping it would drown out the early sounds of screaming children, and hopefully keep the dogs asleep a little longer.  Well, it did drown out the noise of children and squirrels, but the sun still got Jasper up bright and early.  And so began a new tradition, which he seemed to like a lot (and it was kind of fun for us too, even if sleep was less than optimum).  He got to come up on the bed for cuddles.  Both arms around Alyssa's neck, head on her pillow, spooning with Don.  Which made him so happy (Jasper, that is), that he kept making excited squeals and rolling on his back for a belly rub before snuggling down again.  Still, it was freaking adorable.  And we were able to stay in bed until 8:30 that way.  And that's why the dear lord invented coffee, so what the heck.
Breakfast was much of the same, with pancakes being the carb of choice this morning.
As we were due to go back to
Sunshrine
in the afternoon, we figured we'd better wear out the dogs!  We headed first to the dog park, which was empty, but they got some really good running in with each other, and had pretty much exhausted themselves.  So we figured we'd take them down to the swimming spot.  They both waded in amongst the rocks, then chased each other around the small bit of turf and... you guessed it, made a run for it up the path to the other cottages to visit their pals.  Swimming privileges blown.  Which is really too bad, because the rest of our visit was quite hot, and it would have been good to give them a dunk every once in a while.  But the area where the dogs are allowed to swim is very small, filled with big boulders and sharp rocks and then a steep drop off.  It wasn't really a safe spot for us to wade in with them, probably not great for their paws either.  Plus once on land, there was only a small circle of grass for them to dry off on, before venturing into "forbidden territory".  We talked with a bunch of other dog owners who had similar complaints.  Some just rebelled and took them to the beach at 5am when nobody was up, but... 5am.  It would have been much more "dog friendly" to have a wade-in spot, probably further away from the main grounds, or at least with some fencing around if it was that close.  Probably our biggest disappointment for this trip, as we'd really been looking forward to teaching these guys how to swim and letting them embrace their Lab-ness.
Housekeeping had gotten there earlier than usual, so we could leave the dogs in the cabin without worrying about the crates, at least.  We headed back to Lakefield (a very pretty little town, by the way) for massage #2.  It was two new people for us – Don had Amanda, and Alyssa had Sabrina.  Or should we say SaaahhhhbrinAAAHHHHHHH.  Alyssa's shoulders never knew what hit her, and after Sabrina was done with her feet, she was relaxed in ways she hasn't been relaxed in forever.  Moaning was curbed, so as not to scare the poor woman.
We had brought lots of wine and a bit of beer, but with the hot weather, had only opened one bottle of wine but finished all the beer, so... a stop to the Lakefield LCBO was in order!  Fortunately, they had a really good selection of local craft beer for us to take back to the fridge.
We came back to bored puppies, so took them back to the dog park.  Charlie and Jake showed up with their dad, human sister and human sister's boyfriend, plus a cool nerf football with a tail that whistles when you throw it in the air.  Both dogs and humans were exhausted by the end of that game!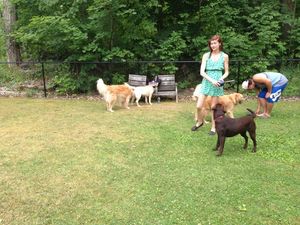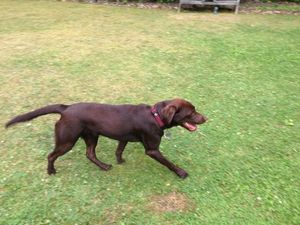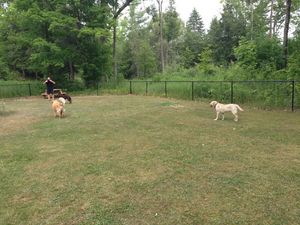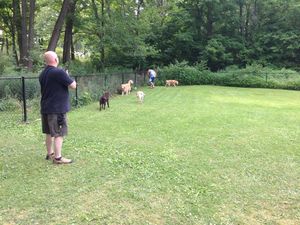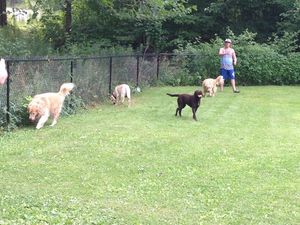 We headed back to the cabin for some water and a wee nap – because we earned it!
Then it was back to The Boathouse for dinner.  Hannah was back, but when we asked if she was having a better day, she beamed and gave a thumbs up – we soon saw it was because she had another two people working tables with her.  The skies looked a little threatening, and the wind was strong, but the idea of eating inside during a heatwave was just too much, so we opted for the patio again, but ready to grab our stuff and run if the heavens opened up.  Don went for one of the "Kawartha's Finest" specials of the evening, which was a Jerk Pork with a creamy garlic and herb potato salad with local bacon, and the farm's fresh green beans, lightly braised.  Alyssa had the Summer Pea Orecchiette pasta, with charred carrot, swiss chard, Grange riesling, peppered chèvre, and, of course, summer peas.  We forgot to take pictures until we'd already dug in, but hopefully you can get a good idea from these partially-eaten photos.  :)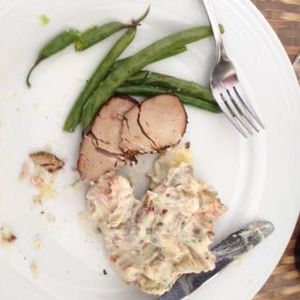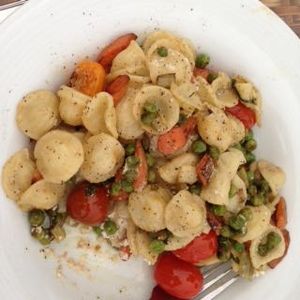 Don managed to finish the whole thing, but as Alyssa got to that crucial bit towards the end, she asked Hannah if there were a small enough box so she could take the rest home for lunch/snack the next day?  Hannah said there wasn't a box that small, but she'd been using a trick of sending small portions home in a large "to-go" coffee cup instead, and whisked away the bowl to pack up the leftovers.  Sadly, she never came back with them...  We were both too full for dessert.
The skies spit on us only slightly, so we'd stayed on the patio with the other die-hards.  The reward for our persistence?  A beautiful double rainbow – these photos do not capture it in the least, sadly, it was truly magnificent.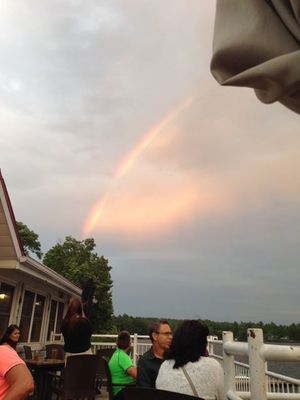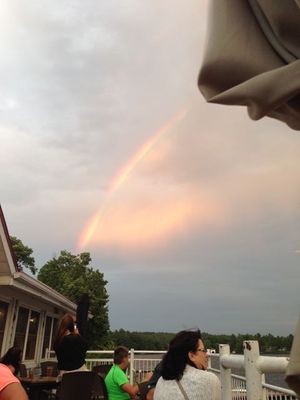 Back to the cabin, and a nice walk with the pooches, before the bugs drove us inside.  But we had a chance to sample some of the new beers before conking out to the sound of the air conditioner.