Friday began with Jasper's new sunup routine – although he was a little less excitable this morning, so we were able to get a bit more sleep.
It was a scorcher of a day, though!  The pups got a bit of a pre-breakfast walk, but even at that early hour (early for us, anyhow), they weren't able to go for very long.
Breakfast?  Pretty much the same, but with waffles.  Plus the eggs were rather runny for our tastes, not sure why (different cook?).
We took them to the dog park in the morning, but no other dogs (or humans) were silly enough to be there, so Macie and Jasper chased each other around a tiny bit, but mostly lay down chewing sticks and looking cute.  Because they're good at that.  :)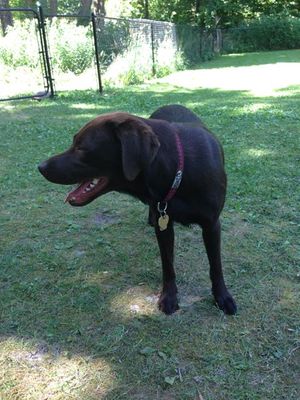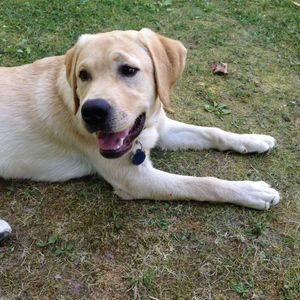 So, it was back to the cottage for relaxing and reading and drinking lots of water in the air conditioning.  Fellow dog-lovers, you must read "The Art of Racing In the Rain" by Garth Stein.  Get thee to a bookstore.
With all that sitting, we obviously needed sustenance, so broke out the J'Adore cheese and ginger beer while the dogs enjoyed some kefir and TLC kibble.  Then we headed back to the dog park!
Fortunately, we were joined by a lovely young couple from London, and their dogs Loki (10-month old Aussie) and Luna (Black Lab / Bernese Mountain Dog cross, 3 years old).  All four became fast friends and enjoyed chasing each other around.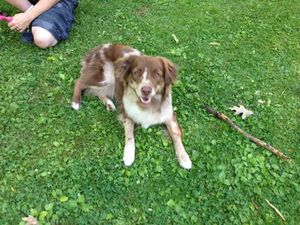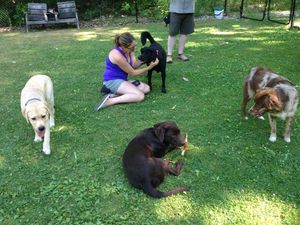 Thoroughly exhausted (dogs and humans), we left the park for more serious business of napping and reading, and maybe some beer.  We had been planning on showers, but... a pipe had burst, so we were without water.  There was also a note from Rachel in housekeeping, apologizing that she hadn't washed our dishes (!) because there wasn't any water with which to do so.
Then it was time for our last dinner at The Boathouse (on the patio, for old time's sake – and definitely not as windy!).  Hannah wasn't there – I guess she doesn't work weekends – but there was a whole new crew.  Our waiter reminded us very much of our friend Lisa G., for some reason, and she was quite good.  We decided to repeat the Italian wine from Verona we'd liked so much before, and opted to share the Romaine Hearts in smoked chili garlic dressing, with buttermilk biscuit croutons and Viamede maple bacon (Don's half).  Oh my goodness, that was a super-delicious salad!  Don had the Viamede Wings (which looked more like pterodactyl than chicken) in medium (perfect amount of spice), with heirloom carrots and county cider blue cheese dip (hmm, he doesn't usually like blue cheese, but it was gone!).  Alyssa had the Stone Baked Flat Bread with herb oil, Cross Winds Farm feta and cider grilled veggies.  The perfect portions, and absolutely delicious – but no room for dessert!
We headed back to feed the dogs their TLC kibble, took them for a bit of a walk (and snuck in a dip at the people-beach, since nobody was around), and then headed back to the cool cottage for maybe a bedtime beverage.