Hi everyone!
Sorry for missing a day.  We've kind of enjoyed not being able to be on the internet, and totally blanked on yesterday's F&B report.  So today, you get two for the price of one.  Which, technically, means you get two for free instead of one for free, BECAUSE WE'RE THAT GENEROUS.
A wonderful power-nap on Monday afternoon (even the dogs), and then the pooches had a late lunch (we were still too full from breakfast to contemplate food) and we headed back to the dog swim area.  They had a good time splashing around, but then made a break for it up the path to the other cottages.  We finally caught up to them outside their Golden buddies Charlie & Jake's cottage, because their humans had been throwing popcorn for the chipmunks.  (Macie and Jasper gave their absolute best chipmunk imitations, though!).  We tried the swimming hole again, but this time with Alyssa physically blocking the path.  Which worked for a while, but then they ran up the rocky ledge on the other side, towards the neighbouring private property.  So much for the swim hole...
Note to self: wear them out in the dog park before going to the swim hole, so they're less likely to go for a run.
We finally caught them both, and headed to the dog park, since running seemed to be more their thing than swimming at that point.  They had the place to themselves for a while, chasing each other and fetching (in the loosest sense of the word) their frisbee and ring.  Then Charlie and Jake came around, plus Milo, another yellow Lab pup who's 1 month younger and 10 pounds lighter than Jasper.  He was a little intimidated by all these big dogs!  After a while, he would come for a sniff, but then would jump back to hang out with his mom.  He did seem to want to join in the fun, and wanted the other dogs to chase him, but then freaked out when they chased him.  Poor guy.
We headed back to our cabin to split a Crabbie's Ginger Beer (mmm... so nice on a hot day!) and get a bit of reading done.  Then popped the kids in their crates (don't get ahead of us, now...) and headed to the other restaurant on-site, the Boathouse Pub.
As we walked in, we got a little wary – it seemed kind of greasy-spoon, and there were a couple of tables with young kids.  We didn't realize it until later, but both of us balked and thought of going to the other restaurant instead (but it's the same menu all week, and we'd probably have to sell a kidney or two in order to afford too many nights there).  We picked a table on the patio, mostly to avoid the noisy kids (who, to be fair, weren't obnoxious or anything, we're just used to childless meals when eating out – mostly because we usually eat at crazy-late hours).  
Our waiter came up and asked us what we'd like to drink, and Don asked what their wine selection was?  She opened the menu to read it to us, struggling with the "Cabernet Save... Soove... oh Cabernet Something, I haven't got a clue."  And then we balked some more.  But ordered the Cabernet I-Don't-Have-A-Clue, from California, snootily expecting it to taste like grape juice.
We were each feeling a little restaurant-snobby, and worried that we were about to be slumming it.
Well, world:  WE ARE SNOBBY ASSHOLES.  Because our first impressions were very wrong.  It was a fabulous dinner, enhanced by a beautiful sunset, followed by a gorgeous full moon over the lake, and a very sweet waiter who may not know her wine, but knows customer service.  Lesson learned.  Flogging completed.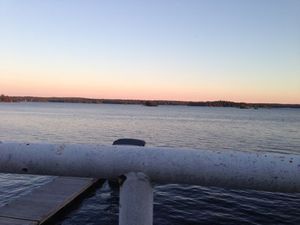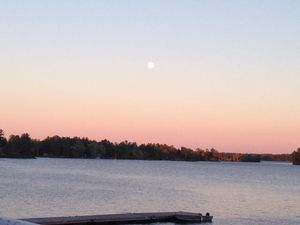 The Cabernet Sauvignon (Seven somethingorother 2014 from California) was quite delicious.  We skipped appetizers, but there were some tasty-looking items on the menu – which we'll likely try later in the week.  Don's main course was the Ontario Steak and Chips – seared bavette steak, triple cooked chips, arugula and red wine mushroom jam.  It was REALLY GOOD – perfectly cooked and the chips (more like wedges) had a nice flavour to them, plus they were super-crispy on the outside.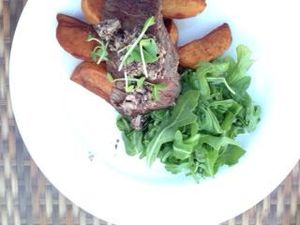 Alyssa opted for the Manitoulin Organic Trout – served on a bed of toasted quinoa, with candy beets, spinach and topped with a maple olive tapenade.  The trout was almost as rich and juicy as a salmon, and beautifully seasoned and seared.  All the flavours mixed together beautifully.  We both ate the whole damned thing.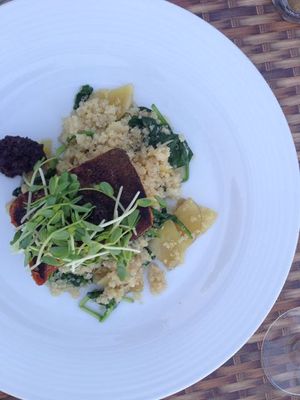 It was getting a little chilly (and a bit buggy), so after gazing fondly at the moon, we brought the rest of our wine inside – where we were the only people left, other than our waiter and the kitchen staff.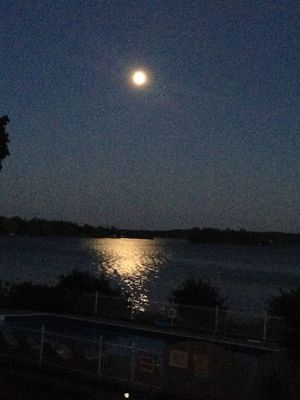 They basically forced dessert on us (just kidding).  Alyssa (who almost never has dessert) went for the Maple Chocolate Custard Tart, with chocolate espresso beans and wild berry preserve.  It wasn't too sweet, and she managed to eat the whole thing.  Don opted for the Boathouse Sundae (without cherries), which included local chocolate, vanilla & strawberry ice cream, maple and cookie.  (Unsurprisingly, he ate the whole thing too.)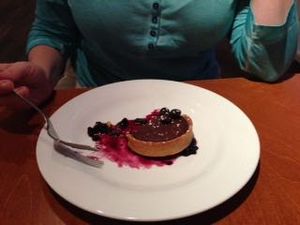 We waddled back to our cabin, where Macie – the good dog – was still in her crate.  But Jasper had escaped his again, AND knocked the ironing board down, blocking the door and spilling his water bowl everywhere.  (Seriously, who the heck does IRONING on a cottage vacation, anyhow?!?!?)  Le sigh...
They dined on TLC kibble, pumpkin, rice and chicken, before some play time (while the humans shared a bed-time beer) and a quick walk.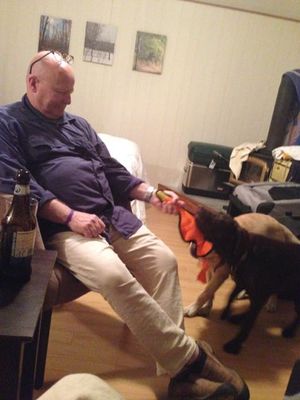 We were awakened at about 5:30 by a bored puppy.  Yes, the same one who escapes his crate.  Yes, we still love him.  Don finally gave up about 7:00 and took them for a walk around one of the trails.  Without his phone.  Without telling Alyssa where he was going.  So it's a very good thing that he didn't fall on those sharp tree stumps he saw, and they didn't get attacked by the resident turkeys.  Both of those were actual possibilities, and not just Alyssa catastrophizing.  To get to the trail entrance, they had to walk past the farm, where there are a bunch of free-range turkeys.  When they first saw them, the dogs got all look-at-me-I-can-bark-at-a-turkey, but once they'd caught their attention, all the turkeys decided to follow them around to check out the loud-mouths.  Tails between legs, furtive glances back as they pulled Don forward (too bad he wasn't on skis, it could have been fun...).  Finally, the farmer said something to the turkeys (probably "breakfast"), and they all went back to the farm, while Don and the pups walked the 3km trail and Alyssa had some really strange dreams.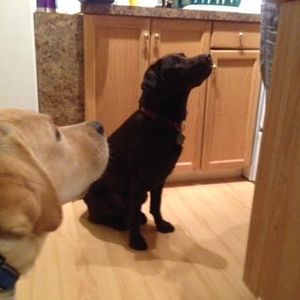 After a puppy breakfast of TLC kibble, the kids got locked in their crates again while the adult (?) humans headed to the dining room for breakfast.  It was mostly the same options for us, with a waffle instead of a pancake for Lyssy, and cinnamon rolls instead of croissants.  It was much busier this day, but we still got a table on the porch.  And we still ate more than a person needs to eat.
And Jasper had still broken out of his crate when we returned.
Back to the dog park, it was Charlie and Jake, plus a Sheepadoodle (or some sort of doodle) named Reese.  They all had a great romp together, although Charlie and Jake still don't like Jasper too much.
After they were worn out, we sent the dogs back to their crates (yeah, yeah...) and headed into Lakefield for our first massages of the holiday.  When we'd booked, the woman at the Viamede desk had recommended Sunshrine, and it's a great spot.  It's inside what looks to be an old bank, but they've got quite the hair salon and day spa going on in there!  We filled out our forms and then Erin and Megan led us upstairs to the massage room.  It's a gorgeous room with a sitting area and fireplace and its own bathroom, and beautiful decor.  Which we mostly didn't see, because we were face down on the massage tables, but it was beautiful when we could see it.  We had a nice and relaxing hour – super relaxing for Don, who might have been heard snoring a few times...  We felt fabulous, and smelled good too.  :)
When paying, Don asked the woman at the front desk if there was anywhere in town that sold athletic footwear, since he wanted to get a better grip on the rocks when the pups were in the lake.  She said the nearest sports place was in Bobcaygeon, but we might want to try the bathing suit store next door.  Sure enough, they had exactly the booties he was asking about, so we each got a pair (for much cheaper than we'd expected, too).
We came home to a note on the door from housekeeping, saying they had been unable to service our cottage, due to a pet being loose.  Sure enough, Jasper the evil genius had gotten out again.  They enjoyed a lunch of TLC kibble, with yogurt and probiotics.
We headed back to the dog park, where Milo was waiting.  This time, he became MUCH more confident, and has become a good play buddy.  It was also easier to tell them apart, since his mom had put a red collar on him.  Charlie and Jake showed up a little later, too, so they were all pretty exhausted by the end of the afternoon.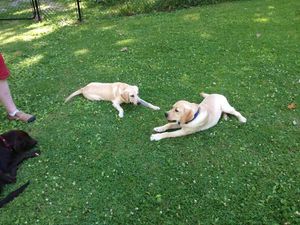 We hadn't been quite as greedy at breakfast, so had room after the dog park to try some of the cheese we'd brought from J'Adore – a smoked cheddar, a goat cheese brie, and some delicious blue.  We tried to control ourselves, because they were delicious as always.  Followed by ginger beer and books, and another walk with the pooches
For dinner, we had decided to order "Room Service" – which is really ordering a picnic you can barbecue on your porch (they're all equipped with propane barbecues).  You order what you want to make at least four hours before you want to get it, and then you pick up your cooler bag at the front desk when it's ready.  Sounded like a fun idea to try!
We thought we'd keep it simple and just do a burger night.  We opened a bottle of Baron De Ley Rioja, which we'd brought with us, although enjoyed some nice beers from Black Creek while the barbecuing happened.  Don opted for the Black Angus Prime Rib Burger, and Alyssa for the Vegan Burger.  They were advertised to come with "all the fixings", and they were... if by "all the fixings", you just like a slice of tomato and piece of lettuce.  No condiments or anything.  So... a little disappointing in that department.  But we'd also ordered a Caesar salad for two, so spread some of the dressing on the buns to keep them moist, and they tasted just fine.  We'd also ordered the wild mushrooms with herbs and shallots in garlic oil.  These were quite tasty, although our BBQ / kitchen wasn't equipped with a veggie basket, so we basically cooked them in the aluminum take-out dish, which was a little tricky and didn't get that nice grilled flavour.  Also, we had no salad bowl in our kitchen, so mixed and served it out of a soup pot – note to anyone considering using the kitchen for meals, you might want to bring your own stuff, other than the absolute basics.  We had ordered one maple butter tart and one order of ice cream, but somehow ended up with two tarts.  We were too full to eat those, anyhow (guess what we're having for lunch?).  So... it was a fun experiment, but without the proper utensils, etc., we're going to forego doing it again on Thursday (which was our original plan) and just hang out at the pub.
The dogs got their TLC kibble with chicken and rice (no pumpkin, because we'd finished it).  After dinner, we took the dogs for a walk around the property, and as there was nobody at the human beach, let them wade in under cover of darkness.  Until they ran away again.  Le sigh... but their recall wasn't bad, for a couple of brainless puppies.
We tried to stay up reading, but Alyssa fell asleep mid-chapter and Don wasn't far behind.
We woke at 6:30 to the sounds of screeching children, and reminded ourselves that perhaps a less family-oriented resort would be preferable next time.  The dogs punctuated the screeching with their own barks, so the children's parents probably reminded themselves to go to a dog-free resort next time.  They wouldn't go back to sleep (the kids or the dogs), so Don took the pooches for a walk around the property, and then we were able to get a bit more sleep after that.  Until they discovered the squirrels...
Breakfast this morning was more of the same types of options, with chocolate chip pancakes being Alyssa's undoing.  We grabbed a couple of to-go coffees and returned to Macie and Houdini in the cabin.  (Seriously, we'll just write if he ever DOESN'T escape from his crate from now on, because it's getting silly...)
With books in hand and frisbees in knapsack, we headed to the dog park.  Where we were determined to stay until Housekeeping had had a chance to clean our cabin, because we were perilously close to running out of toilet paper.  We spent a few hours there (with much of that time seeing the dogs napping in the shade), but didn't get the pleasure of any other doggies' company.  But we did see the housekeeping truck go by, so figured it was safe to head back to the cabin.
Sure enough, there was a note from Jack (who also works the breakfast shift, because he's a multi-tasker) saying he'd been able to get in and leave the new toilet paper and a few extra packets of coffee (we'd left a note for him asking him to leave it on the Muskoka chairs if Jasper was loose), and he hoped we were having a great day.  He'd also washed a bunch of our dirty dishes, which was totally above and beyond, in our opinion.  (And much appreciated.)
The pooches have been in a coma ever since, which is kind of surprising, because they're overdue for lunch.  And we have some maple butter tarts to enjoy!
Happy Wednesday, everyone,
A&D