Hello everyone!
Well, it's our fifth anniversary week away at the beautiful Sir Sam's Inn, and some of you gluttons for punishment are actually asking for an F&B report, so here's our first instalment.  Looking over our blog, it seems we rarely write about our shows, just our bellies.  Perhaps we oughta get better about that, so you know about the fantastic all-night concert we did on Summer Solstice, for instance.  But we were probably too sleep deprived to write about that, anyhow...
We frapped la rue Sunday afternoon, so if we're going to be honest, the F&B report must begin with the salted caramel, chocolate-coated ice cream bars that somehow made it into the car when we stopped for gas.  A delicious accident.  ?
We arrived to Sir Sam's late afternoon, and were greeted at the front desk by Max – who we remembered from the waterfront last year, but he's now an assistant manager.  Sadly Chris, one of our favourite managers from years gone by, is no longer at the inn – and it seems the staff were sad to see him go as well, so he was obviously good at what he does.  Hopefully he's as well-appreciated in his new home!  Also sadly, our friend Gordo (who we met last year) is also off-duty temporarily, as he's been dealing with a knee surgery.  So there are many new faces we'll be seeing this week!
We'd reserved our room as we left last year, so we got our favourite room – the largest one in the inn (we think, though we haven't been in all of them), with a little sitting area and nice cross-breeze.  We'd had it two years ago (during the heat wave!), and wanted to make sure we got it again for our 5th celebrations.  When we walked in, there was a note on the bed saying "Welcome back, there's a treat in the fridge!".  And yes, there was indeed – a plate of chocolate covered strawberries!  We didn't want to ruin our dinner (after the ice cream), so with great discipline, returned the plate to the fridge.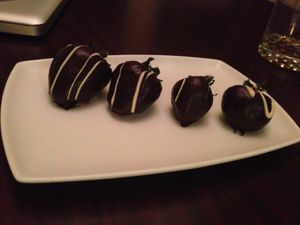 After unpacking and ooh-ing and ah-ing, we headed down to the bar, to pick out a tasty beverage.  A new bartender, Adam, was at the bar.  There were some changes in the beverage selections this year too, so we opted to try the new (to us, anyhow), Haliburton Honey Brown – a local brew, and quite a tasty one at that (not a syrupy honey, but quite lightly flavoured, so still very refreshing on a 31°C +humidex day.  We brought our beer out to the patio – a couple of flies, but the bugs weren't bad at all, so we just sat and looked out at the water.
Not sure if it's the same duck parents as last year, but there was a new family hanging around the dock – the babies look bigger than last year, so either they were born earlier in the season, or there was a lot more food available this year!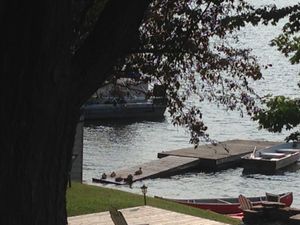 After all that sitting and duck-watching, we still had about an hour and a half until dinner, so opted for a walk.  First we walked to the bar, then we walked (with our second Honey Brown) down to the waterfront, and settled in the gazebo.  It seems to be a new gazebo, or at least they changed the roof and entry way.  We took it for a test drive, and watched the beginning of a beautiful sunset.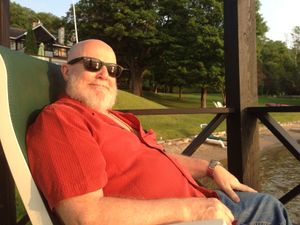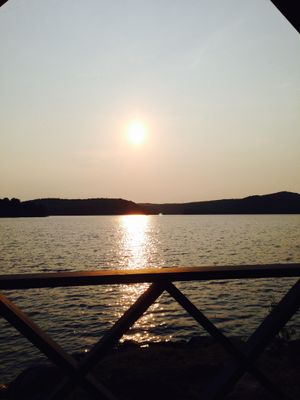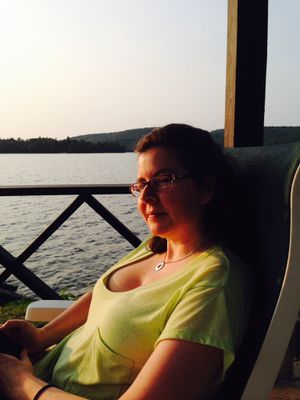 After all that sitting and smiling and staring at sunsets (nice alliteration, eh what?), it was time to dine!  We got a nice table by a window, and away from the kitchen – which means we didn't get an additional waft of heat whenever the door opened.  (It was a hot and muggy night already!)  Our waiter was Alisha, who was back from last year (although we think she was on breakfast crew back then), assisted by Deb, also back from last year.
The wine list seems to have expanded – we don't remember it being two pages before.  Or perhaps they just increased the font size for old fogeys like us!  ? We opted for a Zinfandel from Lodi, California, called Reds – a full-bodied Zin, very tasty (Alyssa thought we'd had it before, Don didn't remember).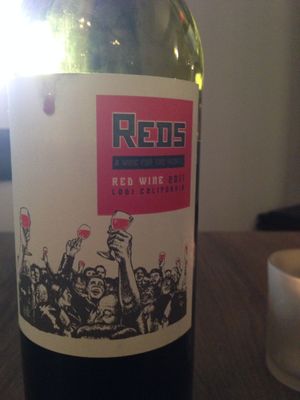 We completely forgot the food photos, so you'll have to use your imaginations now.  For our appetizers, Alyssa had the Vegetable Okonomiyaki with Avocado Salsa & Tiger Shrimp, with pickled cucumber, peanut & coconut aioli.  Served on a rectangular plate, the centre was the vegetable okonomiyaki, which was basically a little pancake, topped with the avocado salsa, a strip of bacon (!!! – not mentioned in the menu, sorry you died in vain little piggie), and the tiger shrimp on top (not sorry, little tiger shrimp), topped with a pesto-like sauce.  The cucumber and aoli was on one side, and some tossed greens on the other.  Very delicious, although it would have been nice to warn the vegetarians about the bacon.  Don had the Smoked Duck Bruschetta with Gruyere Cheese, topped with red pepper jam.  It was incredibly flavourful, and the best part of Don's meal (not that he didn't love the rest!) – he didn't want to stop eating it.
For mains, Don opted for the Grilled Pork Tenderloin and Quebec Wild Boar Sausage with Calvados Cream (cream, apples & brandy).  Also wonderful, and – if memory serves him correctly – one of the better meals he's had here.  He might have even employed some food-cooing, which is usually Alyssa's department.  As for the food-cooer, she had the Pan Seared Yellow Fin Tuna with Tiger Shrimp, served on a creamy risotto with fresh basil and tomatoes.  The fish was perfectly cooked, and they certainly didn't skimp on the shrimp.  The risotto was also delicious, and not too heavy, although Don still had to help her finish it, because Alyssa wanted to be able to walk up the stairs later.
Ah yes, and somewhere in here, the sun set.  These photos do NOT capture the colours very well at all – there were lots more reds!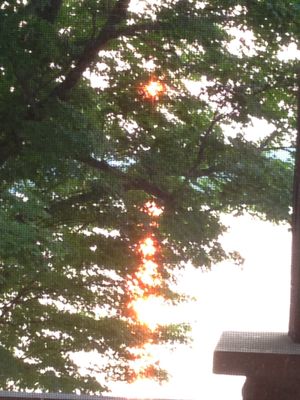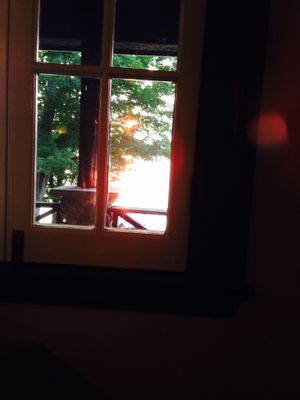 There wasn't anything on the dessert menu that really tickled Don's fancy, so he asked Alisha if they could do strawberries and whipped cream?  There weren't any strawberries available, but she offered blueberries instead, with flavoured whipped cream (Don guesses nutmeg?).  Alyssa went for the Classic Crème Brûlée, which was delicious, although a much bigger portion than in previous years, so some of the brûlée might have died in vain last night as well.
It was still relatively early for us, but we were actually kind of pooched (all that fresh air and sitting down can be tiring!), so instead of entertaining the bar staff with our incredible pool-playing prowess, we opted to head up to the room.  Don picked us up a couple of scotches (Lagavulin for himself, Dalwhinnie for Alyssa), and we ate those two tiniest strawberries with them.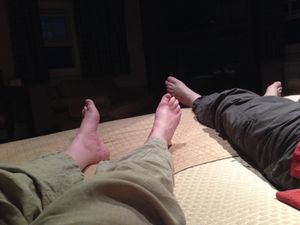 Sleep was a little rough, with the heat, but that's supposed to be our hottest night here, and we still managed to get over 10 hours in (Alyssa actually had to wake Don up for breakfast this morning!).
Once Don was conscious, we went down for breakfast – and were the only people there!  Apparently most of the other people here during the week are involved in the Haliburton Arts Camp, or visiting their kids at camp, so they were all up and at it early.  We had the place to ourselves!  Aly was our waiter, back from last year as well.
Coffee.  Lots of coffee.  :)  And then Don opted for his usual scrambled eggs with peameal bacon (though forgot to switch out potatoes for tomatoes – tomorrow!).  Alyssa went for the omelette with caramelized onion, red pepper and cheddar.  Both were wonderful, as always, as was the nice plate of fruit she brought out for us – and a second serving of toast for Don!
So now we're enjoying the breeze (thank you, breeze!) on the covered patio, and will soon get ready for our first couples massage.  Life is rough.  ?
Happy Monday, everyone!
Alyssa & Don