As predicted, our noses were buried in our books for the first part of the day -- we each finished roughly around the same time, which was very good timing.  Don has since started the Elizabeth Gilbert book himself, and Alyssa is on to "The Storied Life of A.J. Fikry" by
Gabrielle Zevin
(so far, so good, but just barely started).  Then we had the teensiest, tinesiest slices of water buffalo cheese, just to tide us over a while…  No really, they were very small.  :)
Then it was time for our final couple massage with Cheryl and Cindy.  It was heavenly, but far too short.  Still, Don was totally zombified and Alyssa was in a state of gooey relaxation by the end of the hour.  We headed up to our room to "recover" and drink copious amounts of water.
Then it was time for our anniversary pool match!  We headed down for our pre-dinner G&T and prepared ourselves for battle.  Don sunk both the 8-ball and the white ball on the first break, but we pretended that didn't happen and just kept playing -- might have been a mistake, because Don completely dominated the first game.  The second game, he also had a commanding lead, but then Alyssa had her moment of glory, and cleared the table for the win.  We should probably have stopped there, because we were both pretty useless for the next two games -- the last one took so long, we thought we'd have to quit or miss dinner!  Don won both of those, or maybe he just lost less...
For dinner, Deb led us to our favourite table in front of the double doors -- we think they were saving it especially for our anniversary, the lovelies!  Our waiter was Aly (short for Alyssa, so you just know she was awesome!).  She's been serving at breakfast for a few years and we've seen her in the dinner shift before too, but she must have recently reached the age where you're allowed to serve wine (or finished her SmartServe course), because Deb was teaching her how to do it properly, and Aly said it was only the second time she'd had to do this.  No pressure!  We decided to splurge for the occasion and ordered a 2010 Righetti Amarone, which was terribly decadent, and beautifully opened and poured.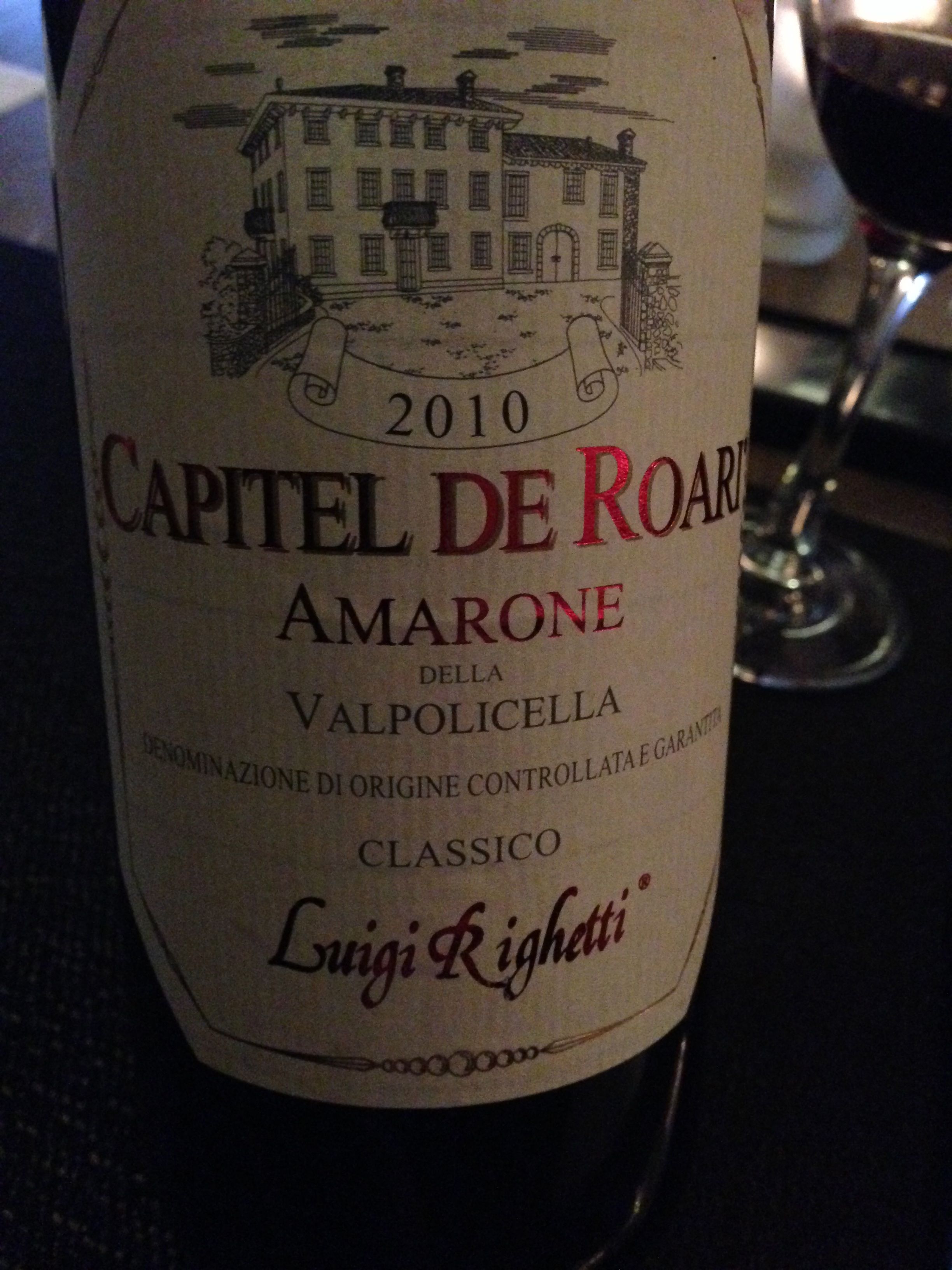 For starters, Don had the Poached Tomato & Artichoke Tart with fresh buffalo mozzarella and basil pesto.  We ALMOST remembered to take pictures before digging in: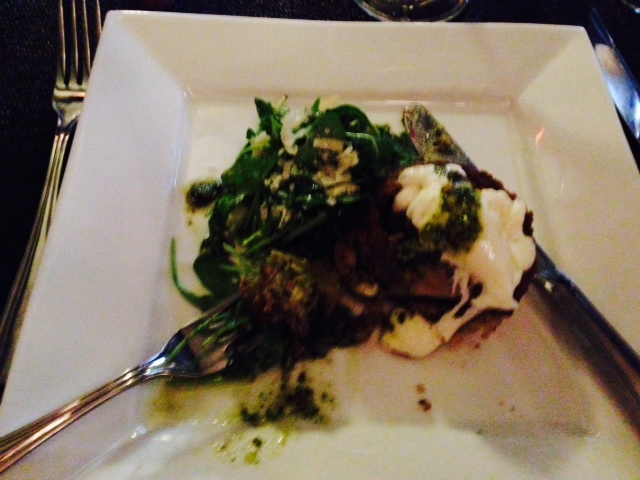 And Alyssa had the Village Greek Salad: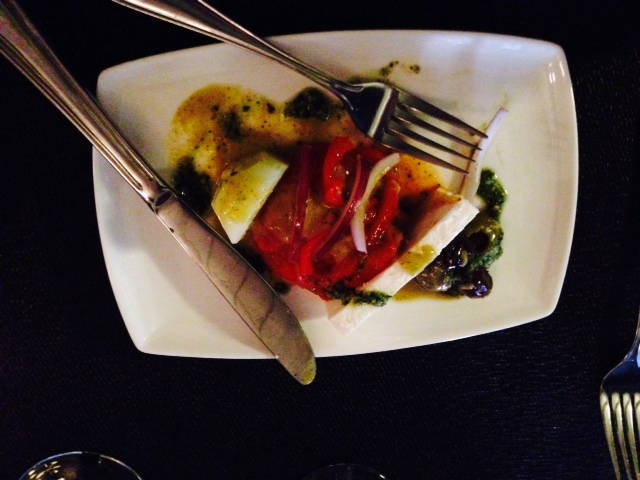 For his main course, Don chose the Grilled Beef Tenderloin with melted port-infused cheddar and caramelized onions, accompanied by mashed potatoes and roast veggies.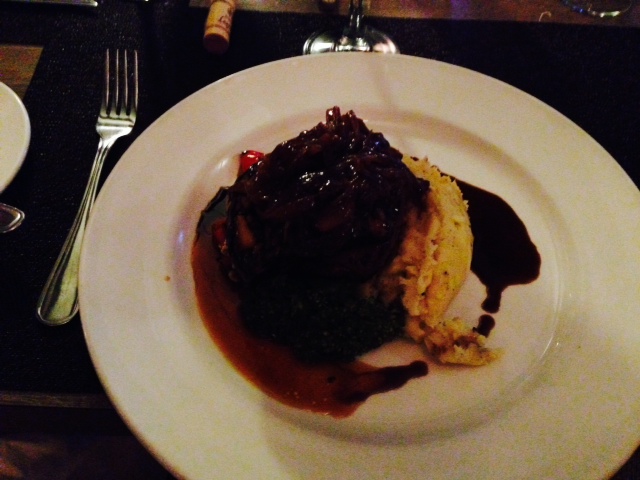 And, as you might have surmised by the title of this report, the vegetarian option for the evening was Gnocchi topped with roasted veggies and a basil pesto sauce.  But guess what?  After a week of NOT having gnocchi, Alyssa decided to go ahead and have the gnocchi.  And it was quite delicious.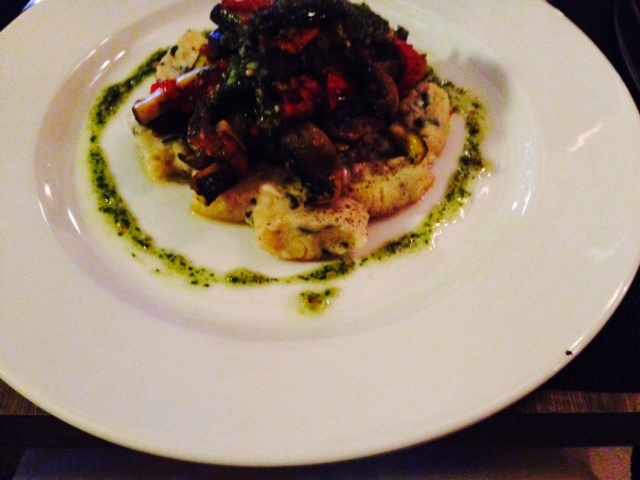 For dessert, they had taken Don's not-too-subtle hint from the night before and included crème brulée on the menu again, this time with raspberries, which of course Alyssa chose.  Don had a final night of strawberries and cream.  Our dessert was delivered with complimentary glasses of champagne, for our anniversary -- above and beyond!  :)
At the bar, Max poured us generous helpings of Dalwhinnie (for A) and Lagavulin (for D), and we waddled our way up to bed.
This morning, the sun had returned and it was warming up again -- a beautiful day!  We packed up our bags and then headed down to breakfast, where Maddy and Aly were both looking after us.  Don had his usual, and Alyssa had the same, minus the peameal.  Then we loaded the car, checked out, and booked ourselves in for same time next year -- making sure to specially request our huge & gorgeous room from last year.
Now we're back home, with the remaining water buffalo cheese (Don bought a HUGE chunk of it!) and a couple of Lyssy's leftovers.  It's nice to be home, but we're wondering if we can sneak in a nap before panic-cleaning for our house concert with
Terry Tufts
tomorrow night?
We're still amazed you folks read this, but happy to have entertained you with the week's Food & Beverage Reports.  Hopefully we'll manage to write more before next year!
Happy 4th anniversary of the F&B Report!
Lyss & Don